EUCOPAS Public Lecture in Paris 2017
60e anniversaire des Traités de Rome : Révérer le passé et craindre le futur ?
EUCOPAS carried out a public lecture in Paris at Maison Heinrich Heine on Monday, 3 July 2017. The German ambassador to France Nikolaus Meyer-Landrut gave a keynote speech followed by a round table discussion with Olivier Costa, Sciences Po Bordeaux, Olivier Rozenberg, Sciences Po Paris and Wolfgang Wessels, University of Cologne.
Cooperation with Maison Heinrich Heine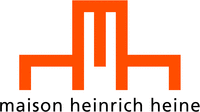 The event was supported by Maison Heinrich Heine. The pictures were also made available by Maison Heinrich Heine.